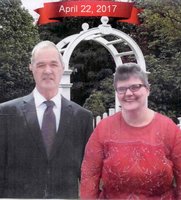 Ronald C. McDonald
Ronald C. McDonald, 64 of Marion Ave passed away unexpected with his lovely wife, Pamela "Secor" McDonald at his side. He passed away on Wednesday November 27, 2019 at his home following a sudden heart attack.
Born on August 15, 1955 in Whitehall, he was the son of the late Cynthia McDonald also proceeded by his sister Carol McDonald and his son Bradly McDonald.
He is the brother of Timithy Arshenbault, Frank Basque and his sister Victoria Basque.
He is the Uncle of Jazmin (Powell) Basque, Colton and Hunter Basque.
He is the great uncle of Zeyla Hahn and Madson Basque
The father of three children Terry Barrett her husband (Adam Barrett Sr), Ronald McDonald Jr and Charles McDonald.
His lovely wife Pamela McDonald of three years .
He was the step father of three children Robert Derusha, Rebecca Veach her husband (Steven Veach) and Brittany Derusha.
The grandfather of Destiny and Adam Jr Barrett, Micheal McDonald, Nina McDonald and one step grandson Micheal Veach.
He has surviving Aunts and Uncles and many cousins.
Services will be private and at the convenience of the family.
There will be a family and friends gathering in the spring at Ron and Pam's home.